Experience excellent fishing for bass, pike, muskie and lake trout at this all-inclusive angling adventure at Slippery Winds Lodge in Ontario.  Price includes comfortable accomodations and meals, boats on six different nearby lakes, float plane service directly to lodge, pre-trip assistance and  expert hosting and hands-on instruction during the trip by Smallmouth Angler staff.
Catch the "Super Slam" — six different gamefish on a single trip!
2017 Trips:
First Spring Trip
May 23 – 27, 2017
Host: Tim Holschlag
Second Spring Trip
May 27 – June 2, 2017
Host: Tim Holschlag
Summer Trip
July 25 – 30, 2017
Host: Dan Johnson
(This trip is full)
We offer trips in spring and summer.
To inquire about 2018 trips call Smallmouth Angler at 612-681-3912 or use our online Contact Form.
(These trips fill up fast, so call now!)
Six Species, Six Lakes:
Truly a unique fly fishing experience! Fantastic fly fishing begins just over the Minnesota border, where we fly from Fort Frances, Ontario, to Slippery Winds Lodge on beautiful Yoke Lake. This lake is adjacent to five other wilderness lakes, all holding a variety of sport fish. Smallmouth bass and largemouth bass, plus pike, muskie, lake trout and walleye are all abundant.
Click slideshow to see full pictures:
Superb Instruction
In addition to enjoying great fishing in a beautiful setting, you'll have a perfect opportunity to learn all about angling's latest frontier, lake fly fishing.
We offer informative seminars each evening covering all aspects of lake fishing including: the best techniques, seasonal locations, rigging for pike and muskie, and fly pattern advice. Casting instruction is also available, along with an excellent selection of time-tested flies.
If you're newer to lake fly fishing, these trips are an ideal introduction to this unique angling experience. If you're a veteran lake angler, this is the perfect place to share this enjoyable fishing with like-minded folks.
Quality Fisheries
All lakes are catch-and-release to maintain the highest quality fisheries. There are excellent numbers of both bass species in the 17- to 20-inch range, and 40-inch-plus pike and muskies are released every year. Even 30-inch lake trout and 2-foot walleyes are possible. All are excellent sport on a fly rod.
First-Class Accommodations
Slippery Winds Wilderness Resort offers first-class lodge accommodations and dining in a beautiful northwoods setting. This smaller lodge provides superior service at an excellent price. These special Smallmouth Angler hosted trips include 4 1/2 or 5 days days of fishing, five nights of lodging, daily seminars, excellent meals, boats on all six lakes and a 30-minute float plane trip directly to the lodge from the Minnesota border.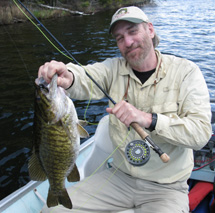 Spring Trip Host
Tim Holschlag
Noted guide, angling instructor and outdoor writer Tim Holschlag has fished and explored northwest Ontario lakes for 30 years and led trips there for over a decade.
A nationally known smallmouth bass expert, Tim has also caught thousands of pike on the fly rod, plus muskie, walleye and lake trout. You'll get personal instruction from Tim during your trip.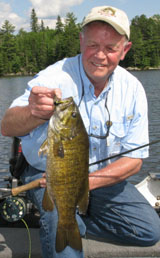 Summer Trip Host
Dan Johnson
Smallmouth Angler Schools instructor and fly designer Dan Johnson has hosted these special Ontario lodge trips with Tim for several years. He is a fly fishing school instructor with Smallmouth Angler, and has designed an exclusive line of effective pike flies.
This fly-rod pro has also caught plenty of pike, muskie, walleye and lake trout on the long rod. Dan holds informal seminars each evening at the lodge. Topics include tackle, fly choices, casting instruction, warmwater fly tying and special lake fishing techniques.
We call our summer trips "Shorts and Sandals Smallmouthing." You get long days, warm weather, eager fish, lots of time on the water, great accommodations and service, plus a friendly fly fishing pro on hand to help put you on fish.
Trip Package Details
First Spring Trip
4 1/2 Days of Fishing,
5 Nights at the lodge
Fly in from Fort Frances the first afternoon.
Fly out after breakfast at the lodge the last day.
Summer Trip
5 Days of Fishing
5 Nights at the lodge
Fly in from Fort Frances the first morning.
Fly out after breakfast at the lodge the last day.
Package Price includes:
unlimited pre-trip advice, and individual assistance while at the lodge.
 informal seminars by Tim and Dan each evening at the lodge. Topics include tackle, fly choices, casting instruction, warmwater fly tying and special lake fishing techniques.
Package also includes:
float plane service to the lodge from Fort Frances
5 nights lodging, meals, boats on all lakes, and evening seminars
Fort Frances, Ontario, is next door to International Falls Minnesota, an easy drive from Minneapolis and most Midwest locations.
Special Note from Tim Holschlag
"No question, there are a lot of lodges you can go to in Ontario, but very few offer as many species as you'll find at Slippery Winds. Good populations of six different gamefish to pursue makes for extremely interesting and enjoyable angling.
Another great thing about having so many species is that if one isn't biting another likely is. And let me say a word about these far-north largemouth. I don't know if it's the extra-clean water or the beautiful Northwoods scenery, but those abundant Canadian bigmouths fight unusually hard. Just like their bronzeback cousins.
Here's another reason to take one of these trips. Lake fly fishing isn't the same as chasing trout or smallies in rivers, nor fishing in the ocean. It has its own unique challenges and charms. My long-time associate, Dan Johnson, and I are both experienced lake fly rodders and we can to provide you with the support you might need to have a successful trip. You simply won't find this much expertise on other Canadian trips. I look forward to fishing with you on an upcoming trip."
— Tim Holschlag
Here's what previous guests say about their Slippery Winds trip:
"I've been on these trips eight times. Each one has been a great experience. It's not just the good fishing, but also the help Tim and Dan provide. And I can't fail to mention the group camaraderie that's part of every trip. I'll be back again"
— Jerry Limmer
"What a fantastic trip! I caught dozens of big smallies and largemouth, plus big pike and my first-ever muskie on a fly rod. I've been on plenty of Canadian fishing trips, but Tim Holschlag's Ontario Adventure was one of the best I've ever taken."
— Gary McCready
"I've fished in a lot of great places in both fresh and saltwater. This Ontario trip ranks right up there. Great fishing, great instruction, great scenery and great guys. Tim knows really how to pick his trips."
— Dr. James Swenson
This is excellent angling that guests really love. Check out some more photos from past trips: