Description
This mid-depth pattern, moderately weighted with lead wire, can be effectively fished either fast or slow. it's quite versatile, easy to use and a very consistent producer. The extremely bright, flashy body material, combined with its undulating rabbit-strip tail, makes it especially effective. Many of our customers overlook this deadly pattern, but those who use it are richly rewarded. Our Cactus Bugger has caught lake trout, big brookies, muskies, pike, walleyes, and lunker largemouth, not to mention thousands of smallmouth
Of our 3 colors, frankly, I never know before trying each which color will be the hot one that day. So the smart thing to do is have all 3 colors along and give each a try. No dice with chartreuse after 30 minutes? Then switch to black or white or vice versa.
Now Available in 3 Colors


White Cactus Bugger (NEW): The white-tailed Cactus Bugger is especially deadly in extra-clear water. The extremely bright, flashy body material also makes it very noticeable and good in lower visibility conditions.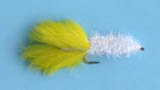 Chartreuse Cactus Bugger: With the same flashy Cactus Chenille body as the white bugger, plus a bright chartreuse rabbit-strip tail, this version is a hot fly for stained and lower visibility water.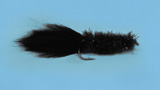 Black Cactus Bugger (NEW):
Often a killer in muddy water or during midday on bright sunny days.
More about the Cactus Bugger

MINIMUM ORDER = 10 FLIES (ANY COMBINATION — TOPWATERS OR SUBSURFACE )
Not sure which flies to get? Choose one of our Special Flies Collections or let Tim Holschlag customize a selection for you with our Custom Dozen Flies.
Tim Holschlag Signature Subsurface Flies
All of these flies have caught thousands of fish — smallmouth as well as other fresh and salt water species. Based on their weights and sink rates, these patterns cover shallow, mid-depth and deeper water situations. The various colors are those Tim has found to be effective under the widest variety of conditions. And they are not cheaply constructed imports like the flies most shops offer. Tim's professional American tiers turn out durable flies of the highest quality.