Description
Stream Smallmouth Fishing — THE MOVIE !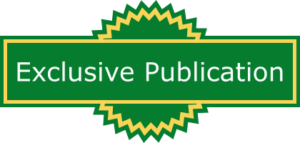 This 66 minute DVD is the movie version of the classic book, "Stream Smallmouth Fishing" by Tim Holschlag. (Conventional Tackle)
A feature-length video, filmed on 12 different rivers across the country.
The only true stream fishing video for the on-foot smallmouth angler.
The Best River Smallmouth DVD Ever !
Demonstrates the techniques in the new book,
"River Smallmouth Fishing."
Makes a great companion to the book!
"B-R-A-V-O ! Well done! The gorgeous scenery, the clarity of the recording, the music, your voice tone/pace/enthusiasm, and of course the spot-on well-organized information. I really liked hearing you describe what you were going to do, then you did it, and you caught fish as we watched! I can almost feel the rod and reel as I watch it bend with a fish on." — Richard Berke
Columbia, MD
In this Video, Tim Holschlag Covers All Aspects of Stream Smallmouthing
"Reading the River"
Identifying Prime Fish Locations
The Underwater "Fish-Eye View"
Tackle and Gear for Rivers
Wading Skills and Tips
The Deadly Dozen Lures
Topwater Tactics
Crankbait Techniques
Spinner Fishing
The "Crayfish Hop"
Jig Fishing Strategies
… It's all here in an action-packed, highly informative and exciting DVD
A True River Video
Finally, here's a high-quality video for river smallie fans. Most other smallmouth videos only cover lake fishing, neglecting rivers. (You know the type– some guy sitting in a boat out on a big lake, telling you about deepwater stuff you can't see.) Others focus on boat fishing in lakes, because that type of video is cheap and easy to produce.
But this DVD is different, a true river fishing extravaganza.
"Stream Smallmouth Fishing" was produced at great expense, shot over an entire fishing season on a dozen different rivers across several states. It certainly isn't some low-budget production hurriedly filmed some weekend on a single river.
Wade-Fishing Instruction
This is the only smallmouth video made for the wade angler. The few other videos that mention rivers generally only show boat fishing, neglecting wade fishing.
In contrast, this feature-length DVD covers all aspects of on-foot smallmouthing. Besides getting plenty of the solid instruction, you'll see how effective and enjoyable on-foot fishing can be. This video truly captures the special excitement, beauty and joys of stream smallmouthing.
---
"I'm proud to present this video on river smallies. I love rivers, and I think river anglers deserve a high-quality video devoted to our sport. Of course, I couldn't cover everything about smallmouth in one hour-long video, but I tried to include the basics for catching river smallies, plus my best methods and tips. I also try to convey some of the beauty and enjoyment being on a smallmouth stream. I hope you like the result, and welcome your comments and suggestions for future videos." — Tim Holschlag
---
Your Personal Guide
Tim Holschlag, with his decades of experience, is your personal fishing instructor in this video.
Live on-stream, Tim shows you how to identify fish locations and good habitat, key wading skills, the best lures and tackle, topwater tactics, crankbaiting techniques, spinner fishing and jigging secrets. It's all clearly demonstrated and explained, on the water and with close-ups, illustrations, and underwater scenes.
In This Video, You'll Learn:
> The top 12 lures for smallmouth fishing (Tim's "Deadly Dozen")
> How to do the superb "Crayfish Hop"
> How you can "read the river" to target fish
> Tim's all-time favorite topwaters
> Why long rods are so much better
> Fishing the Super Do
> The 3 best Topwater Retrieves
> How and why to do the "Wader's Shuffle"
> The "Float 'n' Fly" technique for rivers
… and much more
"I enjoyed every moment of the DVD. Congratulations on a high-quality product. I especially like the "relaxed learning experience" feel to it. By the way, I learned lots." — Jay Bunke
Rochester, MN
How to Fish Your Home Waters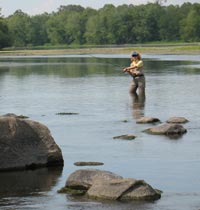 From small creeks to large rivers, whatever waters you fish, this DVD covers them all.
"Stream Smallmouth Fishing" was filmed on 12 rivers across the country, and has river insights seldom seen in fishing videos. Learn how to "read the river," and find fish in any type of waterway.
"Stream Smallmouth Fishing" will help you apply the techniques described to the specific fishing situations you encounter. From small creeks to big rivers, this video clearly demonstrates tactics, tackle and lures that work on a wide variety of rivers.
If You Love River Smallies … THIS IS YOUR VIDEO
No one knows river smallies better than Tim Holschlag, who has devoted his life to studying the species and its river environments. Why not fish with the stream master?
This video is solidly based on smallmouth biology and behaviors. You'll see the "Fish Eye View" — a fascinating glimpse into the underwater world of stream smallies.
Tim Holschlag presents proven techniques that have caught thousands of smallmouths in every type of moving water. His methods have been refined over decades of testing, and approved by the smallies themselves.
"Great job, it exceeded my expectations! Everything was spectacular! Non-stop scene after scene of fishing action really made me want to listen and pay more attention to your instruction so I to could catch river smallies like you were doing. I want to watch it ten times more." — Bob Santangelo, Matteson, IL
Whether you're a beginner or a long-time smallmouth angler … this is the video for you.
Drawing on 40-plus years of experience, Tim Holschlag covers everything you need to know to catch river smallies.
Beginners will find clear lessons on every aspect of the sport, from river hydrology and wading skills to gear, tackle, lures, and techniques.
For experts, Tim presents the latest tackle and tactics, and shares his own favorite fishing methods and lures.
Everyone will love seeing great fish being caught in beautiful river settings, as Tim takes you to rivers across the country, sharing his passion for moving-water bronzebacks.
Don't Miss This Video !
Tim Holschlag
The author of the highly acclaimed books, "Stream Smallmouth Fishing" & "Smallmouth Fly Fishing," as well as hundreds of magazine articles, Tim Holschlag is nationally known for his encyclopedic knowledge of the species. His smallmouth expertise is unrivaled.
Over two decades as a fishing instructor and smallmouth guide, Tim has helped hundreds of anglers improve their smallmouth fishing skills. He demonstrates techniques in a clear and understandable manner, with an upbeat and friendly teaching style.
Tim Holschlag has fished more rivers than any known angler, catching smallmouth in nearly 300 different rivers across North America. He has an intimate understanding and appreciation for all types of rivers.
After 4 decades of smallmouthing, Tim still has a powerful passion for moving water bronzebacks, and he understands the special joys of fishing them like few others. His lifelong devotion to smallmouth gives him insights you'll find nowhere else.