Flies, Tackle & Techniques Like You've Never Seen Before
with Tim Holschlag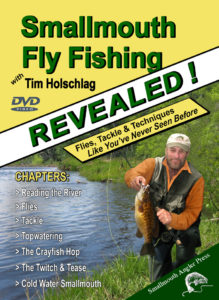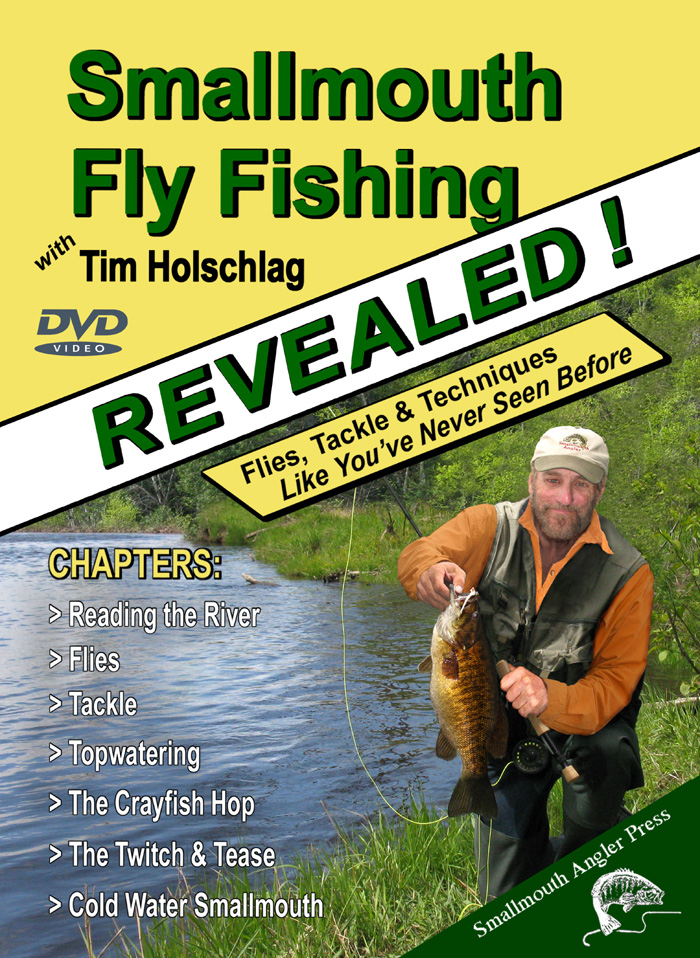 After 2 years of filming and a long production process, our new DVD sets a new standard for video works on this topic.
"Smallmouth Fly Fishing– REVEALED" does just that– it reveals all the details of the techniques covered in the popular book "Smallmouth Fly Fishing," with Tim Holschlag live on the water.
Besides spectacularly beautiful fly fishing scenes with plenty of fish-catching action, you'll see how your fly performs underwater, how to use your rod tip to animate the fly, and live-action fish strikes in slow motion, showing exactly how your indicator moves when the fish hits.
This new video is solid instruction, not merely entertainment. It shows you everything you need to know to fly fish for smallmouth bass.
Chapters
Reading the River
Flies
Tackle
Topwatering
The Crayfish Hop
The Twitch & Tease
Cold Water Smallmouth
"Awesome DVD!!! This really is THE video on smallie flyfishing! There is nothing else that even gets close as far as covering the whole gamut — flies, tackle, rigging, targets and detailed techniques — topwater fishing, mid-depth, and all the way down to bottom-bouncing. You even include cold water fishing. I just can't believe how much you've packed into a 70-minute DVD!"
– Mike Giffith
Madison, WI
Click Here to Read More Reviews
Watch the Introduction from the New DVD:
See Samples from the Flies Chapter:
See Samples from the Crayfish Hop Chapter:
Where to Buy:
Smallmouth Angler Press publications are
available from these distributors:
> Baker & Taylor
>Partners Distributing
> Brodart
> Royal Publications/Inter-Sports
> Anglers Book Supply
> Raymond C Rumpf & Sons
and all library wholesalers
OR YOU MAY ORDER BOOKS/DVDs DIRECTLY
FROM SMALLMOUTH ANGLER PRESS
Smallmouth Fishers:
You can order our DVDs,  and other smallmouth fishing products, at our shopping page.