Everything You Need to Know to Catch River Smallies
with Tim Holschlag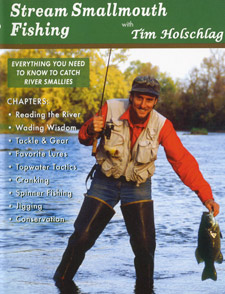 This 66-minute DVD gives comprehensive instruction on all aspects of fishing for smallmouth bass in streams. Topics include identifying smallmouth habitat, the best lures and tackle, wading skills, and fishing with topwater lures, crankbaits, spinners and jigs. All techniques are clearly demonstrated and explained, live on the river and with close-ups, illustrations, and underwater scenes.
Filmed on twelve different rivers across several states, "Stream Smallmouth Fishing" has insights seldom seen in fishing videos. Learn how to "read the river" and find fish in any type of waterway. Learn to apply the techniques to specific fishing situations. And, see the "Fish-Eye View" – a fascinating glimpse into the underwater world of stream smallies.
If you love river smallies, ….this DVD is for you.
Created and hosted by Tim Holschlag, the author of Stream Smallmouth Fishing (Stackpole Books, 1990), Smallmouth Fly Fishing (Smallmouth Angler Press, 2005), and River Smallmouth Fishing (Smallmouth Angler Press, 2010)
Chapters
Reading the River
Tackle & Gear
Topwater Tactics
Spinner Fishing
Conservation
Wading Wisdom
Favorite Lures
Cranking
Jigging
"The Stream Smallmouth Fishing DVD is the most comprehensive guide to stream smallmouth fishing–period. It's an excellent source for learning to catch more and bigger bronzebacks in anything from a stream to river. Whether you're a beginner or advanced smallie angler this DVD is a must have!"

– Kenny Juillerat
Hillsboro, Ohio
Click Here to Read More Reviews
"Great job, it exceeded my expectations! Everything was spectacular! Non-stop scene after scene of fishing action really made me want to listen and pay more attention to your instruction so I to could catch river smallies like you were doing. I want to watch it ten times more."

— Bob Santangelo
Matteson, IL
Where to Buy:
Smallmouth Angler Press publications are
available from these distributors:
> Baker & Taylor
>Partners Distributing
> Brodart
> Royal Publications/Inter-Sports
> Anglers Book Supply
> Raymond C Rumpf & Sons
and all library wholesalers
OR YOU MAY ORDER BOOKS/DVDs DIRECTLY
FROM SMALLMOUTH ANGLER PRESS
Smallmouth Fishers:
You can order our DVDs, and other smallmouth fishing products, at our shopping page.