The Best Techniques and Best Rivers
by Tim Holschlag
This is the new "Smallmouth Bible", the most comprehensive book ever written about river smallmouth. An all-in-one manual for catching smallmouth bass in rivers. This is the first book to combine both how-to and where-to, with 17 chapters of comprehensive instruction plus the 102 best rivers destination descriptions. The reader-friendly format includes 34 illustrations, 17 charts, 8 maps, and 130 photos, many of them in color. Written by Tim Holschlag, the author of Stream Smallmouth Fishing (Stackpole Books, 1990) and Smallmouth Fly Fishing (Smallmouth Angler Press, 2005), and creator of the DVD Stream Smallmouth Fishing (Smallmouth Angler Productions, 2007)
Read our new Interview with Tim Holschlag about smallmouth bass fishing and his new book, "River Smallmouth Fishing".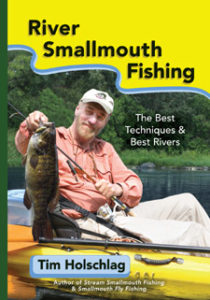 TWO BOOKS IN ONE!!
PART I:
17 Chapters of Instruction –
Smallmouth biology, seasons, river features, tackle, the 20 top lures, wading, boat fishing and techniques for every location and every fishing situation.
PART II:
102 Top Smallmouth Destinations –
The 102 best smallmouth rivers in North America with maps. Includes detailed information on each destination as well as fishing tips and techniques to put you on the big ones.
Look Inside the Book–click here for a PDF of 28 sample pages
Table of Contents
(click images to enlarge)

"One of the world's most respected anglers, educators and conservationists, Tim Holschlag weaves images and words into a timeless companion project (book and DVD)that covers just about EVERY aspect of fishing smallies and places to find them. Holschlag has tapped his decades of experiences and travels, providing our generation and others to come with an amazing book of sharp visuals and entertaining as well as instructive narrative.It's not just "How to Catch Smallies," it's an awareness of their total environment and why anglers must protect these magnificent fish and their fragile habitat."
— Dave Carlson
Television Host
"Northland Adventures"
Click Here to Read More Reviews
Where to Buy:
Smallmouth Angler Press publications are
available from these distributors:
> Baker & Taylor
>Partners Distributing
> Brodart
> Royal Publications/Inter-Sports
> Anglers Book Supply
> Raymond C Rumpf & Sons
and all library wholesalers
OR YOU MAY ORDER BOOKS/DVDs DIRECTLY
FROM SMALLMOUTH ANGLER PRESS
Smallmouth Fishers:
You can order our books, and other smallmouth fishing products, at our shopping page.