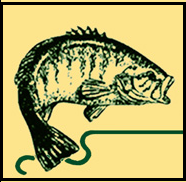 Who We Are
Smallmouth Angler is built on a passion for smallmouth bass fly fishing. We love the pursuit, the challenge, the beautiful places that smallmouth reside, and the whole experience of being outdoors on a quiet river or lake.
Smallmouth Angler is a family-run business. Tim Holschlag and his wife Lyn are committed to providing excellent products and services. Partner Dan Johnson is also a life-long smallmouth bass fan who shares the philosophy of offering high quality products at the best prices.
We also employ a network of other people with special skills— such as designing products, fly tying, video production and book printing— all committed to high standards and excellent value.
What We Do
Smallmouth Angler offers a variety of products, services and information to make your fishing more successful and enjoyable. Our mission is to offer you what you need to get the most out of your smallmouthing.
What We Stand For
Quality — We offer only the best products for your fishing. Most are exclusive designs from Smallmouth Angler. Any products from other sources are carefully chosen and heavily tested before being offered.
Enjoyment — Fishing is a relaxing outdoor activity, not a competition. Sure, we love tussling with smallies on the line. But we also appreciate a quiet river, out-of the way destinations, beautiful scenery — the whole experience of being on the water.
Honesty — No hucksterism here, only straight talk on how well products work. Plus unbiased info on angling destinations. And no exaggerations about fish sizes or numbers caught.
Respect for Smallmouth Bass — Smallmouth are an outstanding game fish, deserving respect, study, attention and protection. Smallmouth bass are also a complex species, and there's still much to learn about them. Our information is scientifically based in sound biology and ongoing research, not merely ideas borrowed from other species like largemouth or trout.
Conservation — We advocate protecting and improving our precious smallmouth bass waters and all natural resources. And naturally, we advocate the careful release of smallmouth.
Camaraderie — We love to talk smallmouth and associate with other smallie fans. We love to hear customers' experiences, and share in your successes and challenges. Ongoing contact with so many other smallmouth bass anglers helps us in improve our products, and enriches our lives. Many of you have become personal friends.
Exploration — We love exploring and finding new smallmouth bass fly fishing destinations. Tim Holschlag has fished more smallmouth bass waters than any known angler. And he continues his smallmouth "research" and travel across North America, to bring you the best destinations and discoveries.
Independence — We aren't connected to any specific manufacturers, so we can offer you unbiased information and assistance. And we don't automatically follow conventional wisdom about angling techniques for smallmouth bass. We promote methods and products we have personally tested and researched.
What We Offer
Techniques— Thoroughly tested methods, scientifically based on smallmouth bass behavior, suited to your specific fishing conditions.
Destinations — Honest information about the best smallmouth waters and fly-fishing-friendly destinations for smallmouth, from Tim Holschlag, the guy who's fished more smallmouth bass waters than any known angler, and from local experts across the country.
Trips — Special trips with Tim or Dan to prime destinations, with seminars, guiding and pre-trip assistance
Information — Articles, books and videos, packed with accurate smallie fishing info, easy to read and exciting to watch. Check out the renowned books "River Smallmouth Fishing," "Smallmouth Fly Fishing." and the new DVD, "Smallmouth Fly Fishing– REVEALED."
Instruction — On-stream Smallmouth Schools, taught by Tim Holschlag and instructors who've worked with Tim for many years. Small class size makes the schools a great value. Or schedule personal one-on-one instruction with Tim.
Products — Only the best of what's available, specifically for smallmouth bass fishing. Exclusive Smallmouth Angler products, and other items carefully chosen and tested.
Enjoyment — Fly fishing is a relaxing pastime, not a competition. Our products and information are all about helping you enjoy your time on the water.